The package said "Strings that last 3-4 times longer coupled with the brightness, clarity, and natural feel of our traditional, world-famous strings"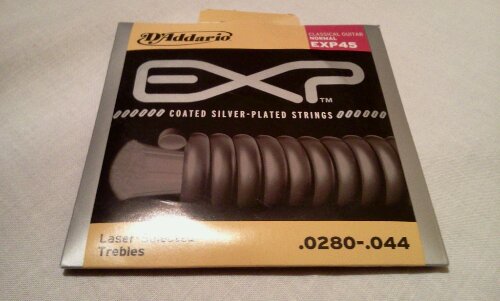 After installing the strings on 2012-08-18, I directly noticed the classical D'Addario balance over all the strings and it was fairly easy to get them hold the tuning. Normally it takes 3-4 days for that to settle, but it took 2 days.
I noticed that the basses are slightly more squeaky until they get slightly dull due to wear-out. Of course with a good left hand technique, that can be avoided. It's never the strings' fault. 😉
The projection with trebles were good. But the clarity and brightness is not as good as the Savarez 540 R.
Curiously, the trebles got brighter after a couple of weeks of playing and that was the time I got the best projection. Generally the projection was good.
After 7 weeks, I started to experience tuning issues (I always start tuning with harmonics matching and that does only work when the sound is bright) and decided to replace them to try a new set.
On 2012-10-06 I replaced them with Hannabach custom-made Classic Guitar Strings, Medium Tension for which I would be blogging soon.
The 7 weeks duration might be misleading, as it really depends how frequent one plays. I can say this was the most durable set I have used until now. Although I like the Savarez trebles better, with the durability, this set makes it to the top of the list:
D'Addario EXP45 Normal Tension
Savarez 540 R
D'Addario Pro Arte EJ46 – Hard Tension
D'Addario Classic Nylon EJ27N
Luthier (Classical/Flamenco) Popular Supreme Set 20