When you first register your Twitter account, you are assigned a default avatar. That is a  PNG format image with an unhatched egg  as you can see below:

So what does this image mean? Literally it is an unhatched egg. An immature bird. I assume nobody wants to give that impressions constantly

Now… What does that "default avatar" mean in twitterverse. If you leave your avatar as the default (and NULL) possible meanings are:
You do not take Twitter seriously
You are just lazy
You are a spammer
You are nobody
You are so unsocial that you cannot have a friend with a camera to take your photo
You are unsocial and do not have a camera
You are unsocial and do not know auto-shutter function of your camera
You are a company / group that does not have a logo
etc.
Best Practices for a Twitter Avatar
On Twitter (and in social networking) people would like to see yourself. Nobody likes to communicate and share things with stylistic images, cartoon characters or so.. Some ideas:
Put your own photo that reveals your own face (preferably professionally taken) showing how a nice person you are…

Use a plain background and a high quality picture. Do not let other details shadow your face…

You may use a a full body or a bust portrait picture, but make sure that it shows "who" you are.

You can also have a stylistic representation of yourself (if you are a designer or have a designer to draw one for you), you can use it as soon as it really represents you uniquely.

Avoid webcam shots.. They are low quality and blurred.
So, what if you are not a single person. Some ideas below:
For a couple, use a picture together

For a brand/company/group/team, use the logo

For a "robot", use the picture of your "robot" 😉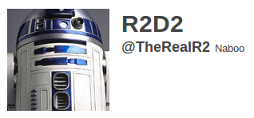 For a pet or plant, use a picture of it