I have been hearing about the Hannabach classical guitar strings from past years – especially during the time that I have not been playing guitar much..
Hannabach strings are German made where I expected a good quality given the general German industry.
In this post you will find my experience with Hannabach Classic Guitar Strings – Custom Made – Medium Tension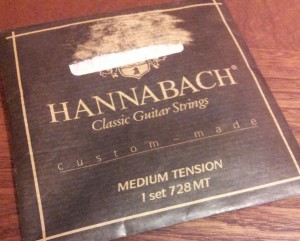 This time I used a different technique during installation – specifically for the bridge side – where I did not do multiple knots except for the high E.
While discussing what I have been testing with a colleague from work, he told me that years ago when they replaced a friend's strings with Hannabach, it basically changed the sound of the guitar. Though it was being compared to quite low end srings.
First Impressions
Very good bass sound; solid, bright.. But kind of too much buzzing and loud..  On the other hand the trebles are a bit dull. Sounds a bit unbalanced. I had a hard time to establish a balance while playing pieces like J.S. Bach's BWV 996 Bourree..
… and later
After four weeks of playing (1/2 hours per day on the average), I noticed that the basses are still quite squeaky and the tuning almost stabilised. That is quite unusual for a set used for a month. I suspect the new style of installation is partly responsible.
While the trebles were already a bit dull, in 5 week's time the trebles (especially high E) became much more dull..  On the other hand even after 7 weeks, the basses were buzzing and clear. That is also when the tuning problems became worse.
I am now sure that the tuning problems are due to new installing method. I am not going use that anymore – stick to the traditional.
The strings were replaced after 10 weeks when they were quite worn out.
As a conclusion, I liked the sound and projection a lot – the only problem was the balance between bass and treble strings, where it can be corrected by good right hand technique.
Finally the list of preference becomes:
D'Addario EXP45 Normal Tension
Savarez 540 R
D'Addario Pro Arte EJ46 – Hard Tension
Hannabach Classic Guitar Strings – Custom Made – Medium Tension
D'Addario Classic Nylon EJ27N
Luthier (Classical/Flamenco) Popular Supreme Set 20